What is Chubu Bussan Boeki?
Since our founding in 1947, we have aimed to be an integrated and comprehensive wholesaler. By making great efforts to help our customers achieve higher profits, we have earned their complete trust. Creating high value in all our products. Developing high quality business activities. Always seeking the best distribution. We have set such goals ourselves, and by achieving them one by one, we strive to become an ideal type of comprehensive wholesaler. Our top goal is to play a leading and meaningful role in all the stages of "production, distribution and sales," now and forever.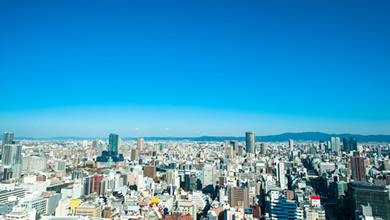 Strengths of Chubu Bussan Boeki
The most important thing when making products is a creative strength born from deep sensitivity. Chubu Bussan Boeki's development staff are always refining their creativity in a flexible way by staying curious about a wide range of subjects.

Chubu Bussan Boeki's duty is to precisely produce better and better products. We have created the optimum production system that meets the diverse needs of our customers.

This is transforming innovative ideas and imagination into a definite form. Chubu Bussan Boeki's technical development staff apply all their technical strengths, cultivated in day-to-day research and development work.
List of Main Products
- Various work gloves
- Clean room gloves
- Masks and other safety gear
- Factory supplies
- Other work supplies
- Wooden decks for verandas and balconies
- Adhesives, adhesive tape
- Resins, chemicals
- Abrasives
- Finger stalls
- Materials for kitchens
- Materials for nursing homes, hospitals and schools
- Amenities for hotels and Japanese-style inns
- Related materials
- Housing related materials
- Health food

- Gelatin, gelling agents, stabilizers
- Industrial detergents, surfactants
- Food packaging materials
- Sanitary related materials
- Other food service industry related materials - Road materials (such as guard fences)
- Primary and secondary steel products
- Industrial chemicals
- Antifreeze
- Dustproof materials
- Wooden decks for verandas and balconies
- Wooden outdoor furniture products
- Outdoor greening products
- Sunshades, blinds
- Others (such as one-step decks)
List of Main Manufacturers
TOWA CORPORATION
3M Japan Limited.
MARUKATSU CO.,LTD.
Hanaki Gomu Co.,Ltd.
Showa Denko K.K.
REABLE CO.,LTD.
EBISU CHEMICAL CO.,LTD.
KANEYO SEKKEN CO.,LTD.
IMAZU CHEMICAL CO.,LTD.
Mitsubishi Plastics,Inc.
KUREHA CORPORATION
JAPACK'S INC.
DAINIHON JOCHUGIKU CO.,LTD.
Kitahara Sangyou Co.,Ltd.
KACHIBOSHI SANGYO CO.,LTD.
S.T.TRADING CO.,LTD.
Konishi Co.,Ltd.
Microclean Tec Rubber(M) Sdn.Bhd.
Hokkaido Mitsui Chemicals,Inc.
TOAGOSEI CO.,LTD.
Sika Ltd.
LION HYGIENE CORPORATION
C×S CORPORATION
RIKEN FABRO CORPORATION
Mitsubishi Aluminum Co.,Ltd.
Unicharm Corporation
UTENA CO.,LTD.
YASU CHEMICAL INC.
DIA RUBBER CO.,LTD.
Marugo Company Inc.
Japan Coating Resin Corporation
Nitta Gelatin Inc.
SAIDEN CHEMICAL INDUSTRY CO.,LTD.
SANYO TRADING CO.,LTD.
DAIICHI SEKKEN CO.,LTD.
ALTAN CO.,LTD.
NIPPON PAPER CRECIA CO.,LTD.
Asahi Kasei Home Products Corporation
KYOWA CLEAN CO.,LTD.
NISSHIN RUBBER CO.,LTD.
INA FOOD INDUSTRY CO.,LTD.